Eat real chocolate. Learn about real chocolate.
Whether you're a company of 1 or 1000, we have real chocolate for everyone.
Hop on a video call with our founder, Ry, and we'll go on a chocolate adventure.
We'll explore the journey from growing cacao to making chocolate, the different cocoa origins, how to taste chocolate, decolonizing commodities, and everything in between.
We'll try three single-origin, two-ingredient chocolates, and taste the rainbow of naturally fruity chocolate flavours.
Each chocolate is the same recipe. The only differences are where the cocoa beans come from.
In the Tasting Box
Chachalate Bars

Our three signature single-origin Chachalate Bars.

Each bar is the same two ingredients, except for where the cacao comes from.

Cocoa Beans & Nibs

See and taste 100% cacao. Crack open the roasted cocoa beans to reveal the nibs inside!

Tasting Guide

An informative guide to bring you along the journey and provide jumping off points for your tasting experience.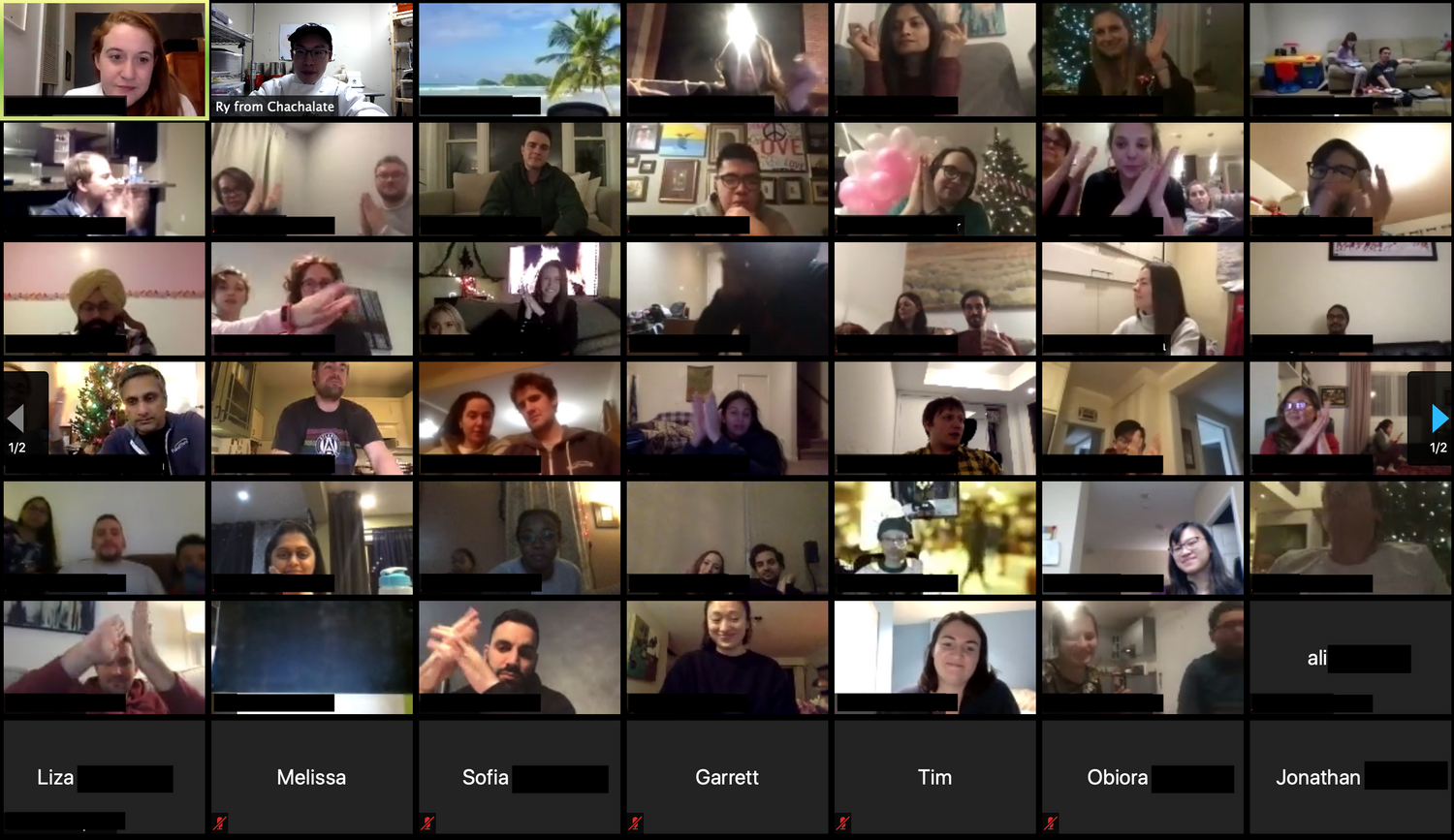 Virtual Tasting Session
An exclusive one hour session with our founder, Ry.
We keep the tastings casual, so there's plenty of opportunity for questions and discussion.
Book your chocolate tasting
Reviews
"I was so excited that I registered for a chocolate tasting at a college I didn't even graduate from and ate all the chocolate before the tasting. I recommend Chachalate without reservation."

"Attended the virtual chocolate tasting and Ry was a phenomenal host - entertaining and learned so much about chocolate. A+++ all-around!!"

"I've been to quite a few chocolate tastings, and nothing has been like Ry's approach. His product is different from all the others, and amazing!"

"Ryan gave a wonderfully chocolate experience online. I like how he talked about the history and the process of making the chocolate right from step one i.e. ordering the beans. I will be sharing my chocolate tasting experience with my whole family."

"This was such a fun & interesting evening. I had no idea the depth of flavour you can taste in quality chocolate. I learned so much about the chocolate-making process & was so impressed with Ry's dedication to ethical sourcing, quality of product, and beautiful design."

"This tasting box was fantastic! Really beautiful design, great tasting card, lovely chocolate bars. Ry is really passionate about chocolate and it was great to learn about his approach to chocolate making."
Book your team's chocolate tasting today!